Warehouse and Logistics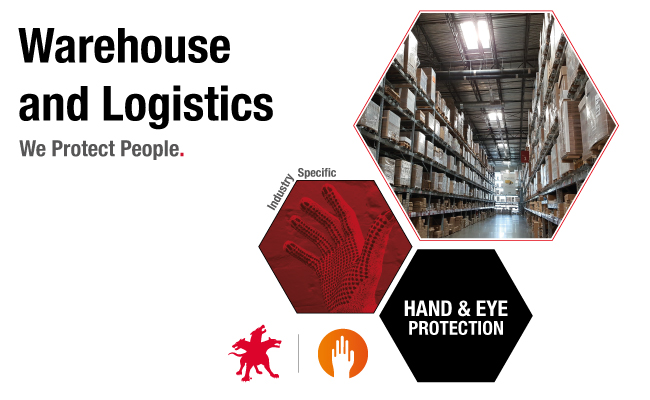 Our work gloves and safety eyewear are used extensively throughout the warehousing and logistics sector where we've developed many long-standing client relationships.
Working closely with the industry to understand their specific needs has enabled us to gain a clear insight. Research and development have enabled us to refine our product specifically for a range of challenges unique to the sector.
This guide focuses on four products which have been championed by our clients and identified as essential PPE within their operation.  They represent a cross-section of our range, each offering a set of unique properties designed to provide protection and increase efficiency within warehouse and logistic operations.
We work in partnership with our clients to provide cost-effective solutions and maximises operation productivity.
We're very proud of our long history as market leaders, supported with expert knowledge and decades of experience as hand protection specialists.
General Handling | Contour Avenger
Wear this glove like a second-skin; work fast and efficiently, maybe even forget it's on your hand. Enjoy the freedom of movement and amazing dexterity yet know you're protected from the nasty knocks and scrapes that come with the territory.
You may be switching tasks from lifting and shifting to handling small or delicate objects; this is where Contour Avenger is your best friend. It allows you to make that transition without a second thought, hence saving time and leaving you free to just get on with the job.
General Handling | GP1002PU
A lightweight glove designed for reliable grip, ideal for hand-balling goods at speed. The coating is Polyurethane, a supple material, renowned for its excellent grip. The textured finish really maximises the strength of your hold.
It's a dexterous glove offering resistance to abrasive surfaces, allowing for precision handling and heavier work too. The breathable nature of the shell combined with the highly flexible PU coating make it comfortable for all-day wear.
General Handling | GP1002PV
This glove is a real manual handing stalwart; the PVC dot palm is the trademark of a storeman's glove. You know it will grip; you can be sure of a firm hold on cardboard, wood, metal plastic and much more.
It's performs well under additional pressure. When loading goods in the pouring rain; it won't let you down, its grip remains firm. You may need to grapple with greasy machine parts, again no issues, your grip won't falter. It's dexterous, comfortable, breathable and resilient in the face of a challenge.
WL1048HP | Cold protection
This glove protects you from cold; ideal for refrigerated storage, huge sheds with no heating or just the chill of the great outdoors.
The nylon shell and HTP coating work together to form a powerful barrier of insulation and also exhibit extreme cold flexibility so movement is not restricted by the fabric of the glove
A sponge-touch finish provides excellent grip in wet, dry and oily conditions and it has Hydropellent Technology, synonymous with dexterity and breathability. The seamless nylon shell also allows your skin to breathe, is sanitised to prevent unpleasant odours and produces minimal lint.
In summary, this glove is ideal for carrying out precision handling tasks in very cold environments both indoors and out. Available either palm or fully coated, you can rely on it for warmth, protection, comfort.