Advanced Cut Protection Yarn.
A revolution in cut protection
Thin, comfortable and strong like steel
As a leading innovator in the hand protection market, MCR Safety has developed a completely new type of cut-protective yarn.  Based on scientific techniques never previously explored, this yarn is unique and unrivalled for its cut protection and comfort.  The new cut resistant yarn can be manufactured to produce safety gloves with a range of different specifications and cut resistance levels.
Why develop a new yarn?
Protective gloves made with HPPE (High Performance Polyethylene) have been popular for some time because they are lightweight with high abrasion and cut resistance. Often materials such as steel or glass fibre are added to achieve a higher level of cut protection.
These materials do fortify the glove but will not withstand heavy usage or repeated cleaning due to the brittle nature of their structure. They become fractured causing particles to break free and make contact with the skin. This causes irritation and, in some cases, it can actually cause an allergic reaction. In a relatively short time this breakdown will drastically reduce the cut-resistant performance of the glove so it will no longer offer adequate protection for the hand. Therefore, these safety gloves must be replaced far more regularly.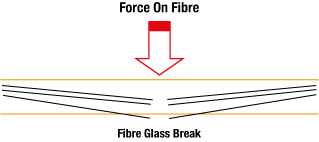 There are also several other disadvantages caused by adding such materials. They stiffen the fabric of the glove making it thicker and less malleable, they inhibit elasticity and impede the dipping process. All these factors indirectly impact the comfort and finish of the safety glove hence the need to develop a new and better yarn.
How is the new cut resistant yarn different?
Our advanced fibre filament uses micro-reinforcements. These ultra-thin fibres deliver high levels of cut protection without including any steel or glass fibre. They are thoroughly tested, and we can clearly demonstrate the new yarn's superiority in all round performance and durability. With the added benefits of being silky smooth, comfortable, flexible, and dexterous – the advantages are obvious.
Take it up a gear
The new cut resistant yarn with its micro-reinforcements gives exceptional cut protection and comfort yet with the addition of a little more technology we can take it up a gear.
The protective properties of glass fibre are highly desirable for economically achieving high levels of cut protection. However, their negative side effects are far from desirable. How can they be separated one from the other?
To take our advanced fibres above a Cut Level C, we must include highly durable metallic fibres. To ensure comfort, durability and longevity is maintained. The metallic fibre becomes an integral component of the advanced cut resistant yarn so the metallic fibres cannot fracture and become free to make contact with the skin. This means the fibre becomes completely encapsulated and unable to move. In this bonded state they still demonstrate the same protective properties yet will not cause irritation, restrict elasticity, or reduce flexibility.
This is how the new advanced yarn can overcome the issues caused by glass and steel fibre
Tougher, safer, and more comfortable
Using micro-reinforcements for strength and comfort or with integral fibre particles for an even more cut-resistant glove with the same comfort and durability. You can see how we have introduced this new innovation into our advanced cut protection range.
Which Safety Gloves Use This Technology?
CT1062NA | Cut Level B | Nitrile Breathable Foam | Palm Coated
CT1062PU | Cut Level B | PU | Palm Coated
CT1062ND | Cut Level B | Double Dip Nitrile | 3/4 Coated

CT1063NA | Cut Level C | Nitrile Breathable Foam | Palm Coated
CT1063PU | Cut Level C | PU | Palm Coated
CT1063ND | Cut Level C | Double Dip Nitrile | 3/4 Coated

CT1064NA | Cut Level D | Nitrile Breathable Foam | Palm Coated
CT1064PU | Cut Level D | PU | Palm Coated
CT1064ND | Cut Level D | Double Dip Nitrile | 3/4 Coated